Golf Tips That Will Improve Your Game

Want to improve your golf game and looking for golf tips? 
You're going to have to put in a little work. 
You won't get good at golf just by reading this article. 
But, if you want to improve your skills, read on for some of the best golf tips out there.
Golf is one of the most popular sports in the world. It is a sport where you can play alone or with as many other people as you want over the course of a season. The beautiful thing about golf is that you can play it your entire life. 
The way you play is purely up to you, but there are a lot of things that will help you have a better experience while playing.
There's something mystical about golf. 
If you're looking for a sport that challenges you both mentally and physically, look no further than a round of golf. There's the fairway, the greens, the sand traps, the water hazards, and the rough — all trying to trip you up and ruin your shot on every single hole.
Golf is a sport that requires not only physical strength, but also mental focus. It's important to remember that golf is a game of practice. Whether you're just beginning or are an experienced golfer, there's always something new to learn. 
Here are some golf tips that will help you improve your game.
Keep reading…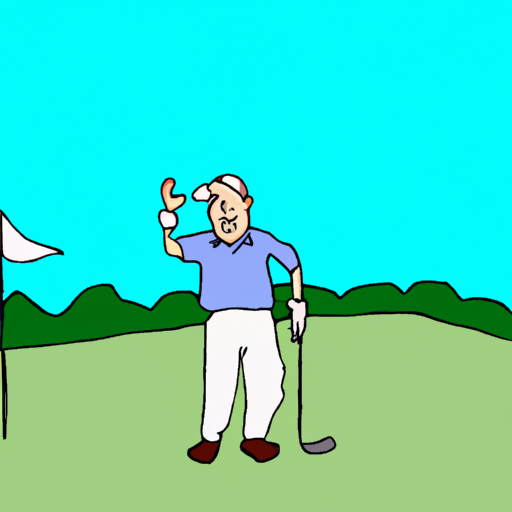 With determination in his eyes and golf tips in his mind, a novice golfer practices his swing. The journey from beginner to glory starts here.
Tips for Improving Your Golf Swing

Every golfer wants to improve their game. 
For the amateur, it's a fun hobby. 
For the professional, it's a way to make a living. 
Either way, you want to improve your golf swing and become a better player. 
For most of us, the game of golf is an enjoyable pastime—but it can also be a frustrating sport to learn. Whether you're a beginner who just got a set of clubs for the first time or a more seasoned player who's been hitting the links for years, it's important that your game is as close to the highest level as you can get it.
If you're anything like me, you've tried to take up golf at some point. Maybe you even had some natural ability and even got to the point where you were fairly decent at the game. But no matter what kind of player you are, there's always room for improvement.
There are many ways to improve your golf swing, and it's important to experiment and find what works best for you. Here are some important tips for improving your golf swing that will help you focus on the factors you need to improve the most, while avoiding common mistakes.  
Don't be discouraged if you don't see immediate improvements — it may take time to get the hang of it.
Uncover Additional Tips for Your Golf Journey...
As you embark on your golfing journey, we want to ensure you have all the resources you need to improve and enjoy the game. Whether you're a beginner just starting out or a weekend golfer looking to shave a few strokes off your round, we've got you covered.
In addition to our comprehensive guide, we have a variety of specialized pages designed to help you focus on specific aspects of your game. From mastering the perfect swing to understanding the psychology of golf, these resources are here to support your progress.
Here's what we have in store for you...
Mastering your swing is crucial to improving your golf game. Visit our Golf Swing page to learn about the mechanics of a good golf swing, common mistakes, and how to practice effectively. Start swinging like a pro today!
Struggling with your iron shots? Our Hitting Irons page is here to help. Discover tips and techniques to hit your irons straight and long, and take your game to the next level. Don't let your irons let you down!
Considering taking your game to the next level? Explore our Golf Lessons page. Here, we delve into the numerous benefits of receiving instruction from a qualified golf teacher. From personalized feedback to mastering advanced techniques, discover how professional golf lessons can transform your game. Remember, even the greatest golfers had teachers. Start your journey towards golfing excellence today!
Golf is as much a mental game as it is physical. Our Golf Psychology page provides insights into the mental aspects of the game. Learn how to stay focused, handle pressure, and use psychology to your advantage on the golf course.
Looking to improve your game visually? Check out our comprehensive collection of Golf Videos. These videos cover everything from basic techniques to advanced strategies, perfect for beginners and weekend golfers alike. Don't just read about golf, watch and learn!
Tips to Improve Your Golf Game If You're a Beginner

Golf is one of the most popular sports in the world, and for good reason. It's not only relaxing, but also provides a challenge for people of all skill levels. But if you're a beginner and want to improve your game, then you more than anyone know how hard it can be to get started.
Learning to play golf can be fun, but it can also be frustrating. There are many ways to improve your golf game, but it is difficult to find an easy way to do it.
If you're a complete beginner at golf, there are many things that you'll have to learn and master. One of these is how to improve your overall level of play. If you want to be a better golfer, there are a few tips that you can use so that you're playing at a higher level.
Beginning golfers can find a lot of information online about the game, but a lot of it is geared toward more experienced golfers. If you're a beginner, you might be feeling a little overwhelmed as you try to figure out how to get started with golf. 
The good news is, it's easier than you think. Follow these beginner golf tips to help you improve your game and have fun while you do it.
Golf Tips For Beginners - Your passion for golf might make you feel like a pro on the course, but to the average golfer you might look like you don't know what you're doing — even if you do. Avoid some of these common beginner mistakes to improve your game.
7 Basic Golf Tips For Beginners - Learn How To Play Golf The Right Way - If you're new to golf, it can be a very confusing sport. This beginner's guide will help you learn the very basics.
What Is Shank In Golf, What's The Cause And How To Fix Your Shanks - Learn what causes your golf shank and how to fix it with one simple drill in five minutes.
The Top Challenges for Weekend Golfers Trying to Get Better - The best way to learn golf is on the golf course. Words are limited here, but enjoy the journey of learning.
How To Hit A Longer Drive In Golf
Everyone wants to hit the ball farther when they are on the golf course. What's more, the ability to hit a long drive is something that can dramatically improve your game.
Whether you're a beginner or an experienced golfer, there is always room for improvement. If you're looking to gain more distance on the golf course, you've come to the right place.
There are many reasons why you may want to learn how to hit a longer drive. 
Perhaps you just want to play better golf and enjoy it more. 
Perhaps you want to lower your handicap. 
Or, possibly, you're sick of getting out-drove by those pesky juniors on the course every weekend. 
Whatever the reason, hitting the ball farther has never been so important.
Learning how to hit a longer drive in golf is not an easy task. It takes time, effort, patience and practice. But, there are a few things you can do to help improve your swing and your distance off the tee. 
Have A Great Golf Tip?
Do you have a great golf tip? Share it!
What Other Golfers Have Said
Click below to see contributions from other golfers to this page...

Golf Putting Tips - Try AimPoint Express Not rated yet
Golf is a complicated and frustrating game for many people. It requires discipline, patience, focus, and a lot of time to become a better player. …
Golfeaser Newsletter - How To Get Into Golf With Ease
Want to stop feeling humiliated on the first tee, hit long drives and beat your buddies?
Join the weekend golfer community and get "The 3 Easy Secrets Every Weekend Golfer Can Use to Improve Their Game" for FREE.