Can Used Vice Golf Balls Help You Play The Game In Comfort?
Have the idea of playing used Vice golf balls ever crossed your mind as the solution to the way you feel on the golf course?
If you suffer from buying golf balls that are too expensive… if you feel you must play on a COOL golf ball to match your buddies that are playing more expensive premium balls… if you are nervous when hitting over water because you can't afford to lose another ball… then this story is just for you.
Here's why…
When you choose to play on used Vice golf balls you will get a ball that is reasonably priced (you can afford to lose a ball or two during a round) and you get a ball that stands out and is cool.
In addition, you must realize there is a cost to not taking action...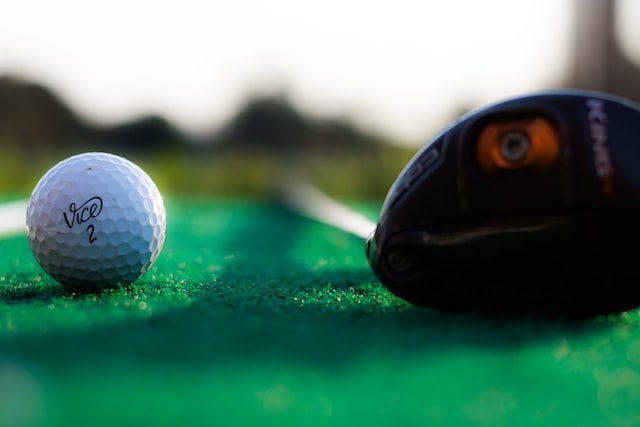 Vice is a cool brand in golf. And their balls are fairly priced. Can used Vice golf balls make a difference to the way you experience golf?
Save Money By Playing Used Vice Golf Balls
What most golfers do when facing expensive costs on balls is nothing. Either they stretch their budget to play the ball they want (and that hurts) or they settle for the cheapest no-big-brand-ball or play with the balls they find in the rough along the course.
But for most golfers, none of that works when looking for pleasure in the game.
They buy expensive balls once in a while, hoping it will solve their problem.
They never get consistency in their game since they are playing on different balls most of the time.
They can't feel comfortable when they see other golfers playing premium balls all the time.
And what happens if you just do nothing?
If you just keep playing the same old golf balls you've been playing?
You'll be caught in a cross-road not knowing if you should change to more expensive balls or keep playing cheaper balls of lesser quality.
And the worst thing:
You don't feel the connection to your buddies who are playing premium golf balls when you aren't…
Play Used Vice Golf Balls
I understand how golf balls can affect your game.
For my first few years I played on different balls all the time. Yes, they were quite cheap (because that's what I was comfortable paying for balls) but I never knew how they would behave when I hit 'em.
(Have you ever hit a putt with a Velocity?)
Then I learned about buying second hand and refurbished golf balls online and that was a turning point for me…
I could buy the balls I wanted and buying used golf balls is much cheaper than buying new ones. And if you don't break 80 on a regular basis, chances you feel the difference between a new and used golf ball are slim.
Even though I haven't bought used Vice golf balls (since I prefer another brand), I have played used Vice golf balls quite often.
Vice is a cool brand and they make good golf balls that are fairly priced as compared to many other brands on the market…
I played on many different brands and models for years. And I've now played on the same (used and cheap) model for years, giving my game a nice consistency. Playing with the same model is much nicer.
Here's what that means to you:
Are Vice golf balls illegal?
I don't know why, but sometimes I hear golfers asking - are Vice golf balls legal? And yes, Vice golf balls are perfectly legal.
Both USGA and R&A regulations state that Vice golf balls are legal for casual, recreational, and professional golf play. Due to their conformity to USGA equipment rules, Vice golf balls are therefore fully legal.
What Vice golf ball should I use?
We all have our personal preferences, so which Vice golf ball you should use is up to you. If you're looking for a premium ball, then here are two popular options among golfers:
Used Vice Pro golf balls
Here's what you get when you play a Vice Pro:
A ball designed for higher ball speeds and greater distance from the driver.
The S2TG technology gives your short-game excellent spin.
It has improved feedback and softer feel due to decreased compression.
Used Vice Pro Plus golf balls
Here's what you get when you play a Vice Pro Plus:
You get launch and spin that is lower for a longer, more penetrating distance.
The stick to the green technology (S2TG) provides excellent green-grabbing control.
You get a softer feel and an improved construction for more distance.
Have you made up your mind yet..?
Why Used Vice Golf Balls Attract Golfers
I've played a used Vice Pro a few times and here's what they did for me…
Vice is a cool brand and they make good golf balls. My buddies have always asked what the ball feels like when I play it - and I tell them it has a nice soft touch and that I get a good distance from it.
Then I met this guy at my local club. He's a really good golfer and I've never seen him play anything but Vice. (He's kind of conscious when it comes to clothes and other stuff too.)
But what about the pro players…
What pros use Vice golf balls?
As far as I know, currently (at the time of writing) no pros use Vice golf balls. But they sure are good balls and many golfers play them, even if the top players don't.
One reason top players don't play them can be due to the fact that Vice golf balls are not sold through the usual distribution channels where between 3 and 4 middlemen add commissions. That's a reason for their competitive prices and we are the ones who benefit.
Golfers can feel better on the course playing with used Vice golf balls, because it's a cool brand and the balls can help your game.
After all, what more could we ask for?
Hold on!
We're not done yet.
Save Money By Playing On Used Vice Golf Balls
Are you ready to do what many golfers have done before you…
When playing used Vice golf balls you pay less as compared to buying new balls so you can save money and buy other necessary things for your bag, which means you get more pleasure from your golf.
Buying used Vice golf balls gives you a good ball and you can play the same ball every round so you can get better consistency in your game, which means you will be in a better position to shoot a low score you can brag about later in the clubhouse.
Any golfer who plays on Vice golf balls shows his buddies he's aware of brands. This means you have a grip on things, which means you will earn their respect. (This will add to the fun you get from golf.)
It all comes as part of being smart and buying used golf balls instead of new ones…
Just try Vice golf balls and see if they can contribute to a better golf experience. If it does, you'll be happy on and around the course - and I think that's exactly what's about to happen. If for some reason you're not happy with Vice golf balls, then it's just the way it is.
By the way, did you know you can buy other used golf balls as well online? Yep, it's true. Go here and sign up for the Golfeaser Newsletter Series for more information on how to save money, time, effort and have more fun with your golf.
Who makes Vice golf balls?
The Vice golf balls are designed and engineered in Germany where the company was founded in 2012. Vice is the first company that manufactures and sells high-quality golf balls directly to consumers at a fair price.
How much are Vice golf balls?
You can see the prices for new balls on the Vice website or, if you're like me, see how much you have to pay for used balls at a second-hand used golf balls dealer.
Where do Vice golf balls ship from?
If you buy new Vice golf balls they are shipped to you from Munich in Germany. (I've never bought new Vice balls myself, but this is what I've heard.)
You're reading what I'm saying, right?
Used Vice Golf Balls Are Good, Are You Next?
You have a choice to make when it comes to the golf balls you are playing:
Play the same golf balls you've always been playing. But you know where that will take your game.
Is that really where you want to go?
Is that what golf is meant to be for you?
Take a new action today, and get new results with your golf.
You can feel at ease when stepping up on the first tee with used Vice golf balls, because you know your buddies will notice you are playing on a cool ball.
With used Vice golf balls you get a good ball that can help you improve, save money and gain respect so you can enjoy golf more, which means the game will become easier and the fun greater for you on the course.
Which do you really want for your golf?
Golfeaser Newsletter - How To Get Into Golf With Ease
Want to stop feeling humiliated on the first tee, hit long drives and beat your buddies?
Join the weekend golfer community and get "The 3 Easy Secrets Every Weekend Golfer Can Use to Improve Their Game" for FREE.