The Best Golf Books for Beginners - My Golf Books Top List To Transform Your Game
I've compiled a list with my top golf books. 
In my opinion these are the best golf books for beginners and by reading them you should be able to transform the way you play and experience the game of golf.
When I was a beginner I didn't actually know much about the game and I often felt that the lack of knowledge was holding me back in many different situations when I went to the course. 
I felt that the lack of knowledge was holding me back when I met people in the club house, on the driving range and on the course playing. It was an annoying and troublesome feeling for someone who really wanted to get into the game. 
It took me some time before I was able to make the transition to feeling comfortable in all areas around the course.
And that's exactly what I'm going to show you through these books, how to make that transition in a smooth way...
Of course my confidence grew by the time I spent playing, but I still feel that all the golf books I've read have played a huge part in the way I enjoy the game today. 
Looking back I can say that all these good golf books I've learned from have been crucial to me...
What Are The Books That Golfers Carry?
When you're golfing you always want to improve and you constantly seek new ways on your quest. One way many golfers turn to is reading books, and avid golfers tend to carry quite a few on the shelf.
Therefore it was a very satisfying job putting this list of the best golf books for beginners up online. My wish - and I think it will turn out true for you - is that you will read and enjoy these books in the same way I did. 
You will probably start with the book that seems most likely to solve one of the current problems you experience on or off the course. Most likely this book will give you the benefit of overcoming that problem and let you play and experience the game at a new level.
There are quite a few books written about golf and we all have our favourites. However, some are classic and considered to be the best among golf literature. 
I'm curious to find out which books are going to be on your shelf when we talk some years from now.
Best Golf Books To Improve Your Game
When you read the best golf books as a beginner from my top list you will not only reap the rewards of a better game. You will pick up a lot of knowledge and connect with the spirit of the game. These two aspects of reading have been of monumental value to me. 
So, make yourself comfortable in your favourite chair. Turn your reading lamp on and enjoy the best golf books to improve your game…
My List of The Best Golf Books for Beginners
#1
Ben Hogan's Five Lessons: The Modern Fundamentals of Golf
This is the first golf book that I read.
It made me fall in love with the game and Mr Hogan has been my hero ever since.
If you are going to read just one book in your life, this is the one. The Ben Hogan book Five Lessons simply is one of the best golf books for beginners ever written.
#2
Harvey Penick's Little Red Book: Lessons And Teachings From A Lifetime In Golf
You get sixty plus years worth of wisdom and Harvey will get your head into the game of golf.
If you want a pure instructional golf book, I don't think this is the book for you even though it covers the swing basics. But it does take you into new areas of your mind that has helped many golfers.
I enjoyed the stories Harvey tells big time and it's a book every golfer should read.
#3
Golf My Way: The Instructional Classic, Revised and Updated by Jack Nicklaus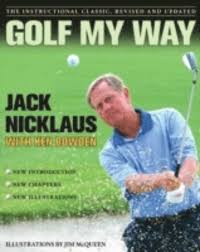 If you feel like a beginner this might not be among the best instructional golf books. For someone looking for swing tips there are probably better books.
However, you will get good lessons and practical advice that will help you move forward in your quest. You can choose to read the book now and you will enjoy it.
Golf My Way is also considered to be one of the best golf biographies of one of the greatest players ever.
#4
Power Golf by Ben Hogan
Five Lessons is a must read book. If Mr Hogan is your hero you should read Power Golf as well.
This book addresses some issues you don't learn in Five Lessons. I loved it! Ben Hogan Power Golf download isn't available though, but a book like this is best read in print anyway.
"There is no such individual as a born golfer. Some have more natural ability than others, but they've all been made."
- Ben Hogan
#5
A Girl's On-course Survival Guide to Golf: Solid Golf Fundamentals... From Tee to Green and In-Between by Christina Ricci
This is a very popular and top selling way to play golf book. It's well written and easy to read for every beginner golfer.
I find Christina to write a bit of humorous golf books and she has helped many new golfers to feel comfortable with the game.
#6
Golf is Not a Game of Perfect by Dr. Bob Rotella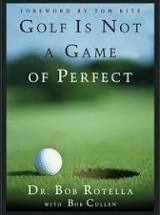 There are many books written on the subject and when it comes to the best golf mental game books, this one is my personal favorite.
With easy to understand stories Dr Rotella will  improve the game of weekend warriors like you and me while we are having a good read.
This is, in my opinion, among the top best golf psychology books. Don't let your mindset hold you back on the course.
#7
Golf For Dummies by Gary McCord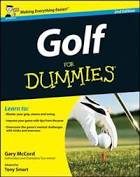 With golf swing tips for beginners this book also fits in the category of funny golf books.
First I was skeptical about the Dummy-books. But if you want a quick way to make an entry into the game, this book will give you the basics in an easy to understand way. I especially enjoy the parts where McCord relates the game to everyday life.
The book also covers the basic rules of the golf game and the way it is played.
#8
Ben Hogan: An American Life by James Dodson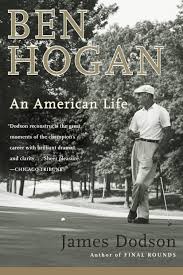 Did I mention that Mr Hogan is my hero?
This is a biography written by James Dodson. Very well written and covers the life and whereabouts of Ben Hogan in a unique way. A must read for every Hogan fan and a book that  touches the spirit of the game.
#9
Every Shot Counts: Using the Revolutionary Strokes Gained Approach to Improve Your Golf Performance and Strategy by Mark Broadie
If you want to read the best golf course management books and the best golf course strategy books, look no further! This book has it all. After reading this book you will think in a whole new way when you are playing your way around the golf course. 
With this book Mark Broadie transformed the way both pros and amateurs alike think course management and strategy on the course. 
But what are strokes gained? 
Strokes gained measure the quality of every single shot you hit and compare it to a benchmark in order to tell you how good the shot was. It will be of tremendous help to you when you begin to think about course management and strategy. You will be able to apply strokes gained to your own game with lower scores as a result.
When you are done with this book you will understand both strokes gained around the green and more. This is also fun and useful to understand when you are watching PGA on TV and want to impress your friends.
#10
Golf Rules and Etiquette For Dummies by John Steinbreder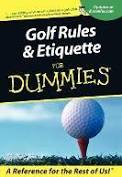 This is one of the more funny golf books, but it's so much more than that.
It covers the basic golf rules and regulations, even though some rules have changed a bit over the last years.
As a golf for beginners book, it will help you play the game with confidence. From now you will feel that you know the rules and basic golf etiquette for beginners, both what is spoken and what is unspoken.
#11
The Golf Handbook, Third Edition: The Complete Guide to the Greatest Game by Vivien Saunders
This is the golf handbook written by golf authority Vivien Saunders, winner of the British Open in 1977.
Probably the best golf drill book.
Beginners can learn the basics of the swing sequence with the step-by-step instructions provided in this game like training golf book.
#12
Your Short Game Solution: Mastering the Finesse Game from 120 Yards and In by James Sieckmann
Is there anyone who has dedicated more time to the short game than James Sieckmann? Probably not and that's why this is considered one of the very best golf short game books.
Learn how to improve your short game by using the bounce in a straightforward way which will lower your score.
#13
Weight Training for Golf: The Ultimate Guide by Kai Fusser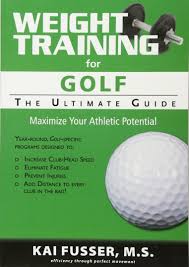 This is a weight training for golf book. Even though there are other ways to learn about weight training for golf, this is the best and most popular I'm aware of.
People I know who read it too say they find it helpful to improve core and swing consistency. The book is also considered an inspiration on improving overall wellness.
#14
Golf Lessons from Sam Snead by Bailey Campbell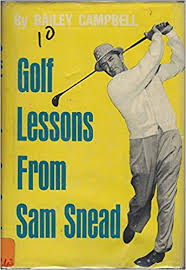 Sam Snead was one of the best players in the world.
Winner of 82 PGA Tour events over four different decades and inducted into the World Golf Hall of Fame.
Admired by the golfing world for having a perfect swing. Played in the same era as Ben Hogan.
This is my top list of the best golf books for beginners. They are considered to be among the best golf books ever written and they are my personal favorites. I hope you will enjoy them!
Frequently Asked Questions
When looking for a golf book for beginners, consider the following factors:

Clear, concise instruction: The book should provide clear, easy-to-understand instruction on the basics of the golf swing and course management.
Illustrations and photographs: The book should include illustrations and photographs to help demonstrate the techniques and concepts discussed.
Mental preparation: The book should provide tips and guidance on the mental aspects of golf, such as visualization, goal-setting, and course management.
Feedback and drills: The book should provide exercises and drills to help you practice and improve your swing and golf game.
Yes, there are many online resources that can help improve your golf game as a beginner. Some popular resources include online tutorials, golf instructional videos, and interactive golf simulators. Additionally, you can find online forums, golf communities, and social media groups where you can ask questions, get advice and connect with other golfers.
Here are a few tips for getting the most out of a golf book for beginners:

Take your time: Don't try to rush through the book. Take the time to read and understand the instruction provided.
Practice what you learn: It's important to practice what you learn from the book. Try to apply the techniques and concepts discussed to your own game.
Get feedback: Get feedback on your swing and golf game from a professional golf instructor or more experienced golfer to help you improve.
Keep the book handy: Keep the book with you at the course and refer to it when you need help or advice.
There are many other books and resources that complement beginner golf books. Some popular options include instructional videos, online tutorials, and golf simulator programs. Additionally, taking lessons with a professional golf instructor or working with a golf coach can provide additional guidance and feedback on your swing and golf game.
Best Golf Books for Beginners