What Is Golf Insurance? 
If you're a golfer, or you know golfers, there's a good chance that at some point in your life you've spoken to someone about golf insurance. 
But what is it? And why should you get it? 
(Keep in mind that I don't take any responsibility for your golf insurance. Nor that you have the right insurance. You have to check with your insurance company if you're covered or not.)
Golf is a relaxing game that helps you get away from the busy world we live in. 
It's also a game that can get you into a lot of trouble if you're not careful. You don't want to think about circumstances that might come up that would require you to use golf insurance, but it's in your best interest to be prepared for them anyway.
If you are a golfer, you need to have insurance.
Golf insurance can cover your equipment, liability and more.
Make sure your home insurance or golf insurance covers everything.
Get the right golf insurance to ensure that you are covered in case of an accident or loss of equipment.
If you are a die-hard golfer, then you may be aware that golf insurance is a type of insurance that is specifically designed for golfers. In fact, it can also be referred to as golf protection.
Keep reading to learn what golf insurance is about...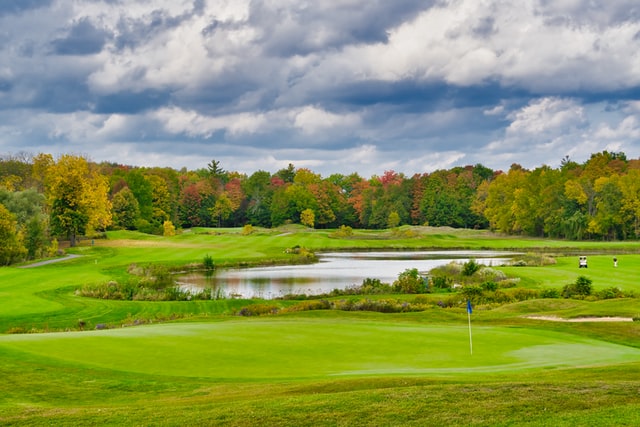 Golf can be a great game. It helps teach you about yourself and how to deal with tough situations. However, unexpected things do happen on the golf course.
Do You Need Insurance For Golf?

The short answer is yes, you should have insurance if you play golf. If you enjoy the game of golf, you'll want to protect yourself from any risks associated with it.
One of the most important things to do before you start playing any sport is to make sure you're covered by the right insurance. This is true for pretty much any sports, but especially golf. Golf is a high-risk sport because there are so many hazards to be aware of and the potential for injury is high.
Golf insurance is a type of insurance that protects golfers financially against loss of golf equipment and can cover damage you cause while playing. For example, if you hit something with your golf ball, you may be covered for damages you cause.
Your policy will depend on the type of cover you want and you have to make sure you get the best protection for your needs. Golf insurance has become an increasingly popular choice for golfers. 
You can choose to buy a golf insurance policy directly from an insurance company that sells solutions for golfers. Sometimes, or in some countries, golf clubs also offer insurance cover as part of the memberships they sell to the course. 
Which is the best golf insurance?
Golf is a sport that will always be associated with gentlemanly conduct, etiquette, and of course, a little friendly competition. 
But we all know that golf can be unpredictable, and things can get out of hand if you're not careful – especially when it comes to your golf clubs and other types of liability. And this is where golf insurance comes in. 
Golf insurance protects your clubs, your game, and most importantly – your wallet. But which is the best golf insurance?
Most golfers, even professionals, will take out some sort of insurance for their clubs, equipment and liability. There are a few different options when it comes to golf insurance and it's important to understand the differences between each policy.
The best golf insurance is the one that suits your needs best. You should think about what kind of golfer you are, whether you're an experienced player or a beginner. 
Even though it's a strange thing to say, when it comes to insurance there are so many different kinds that you need to figure out which one is the best for you.
Are golf clubs covered on house insurance?
Golf clubs are something of an investment because you don't buy a new set every year. So the question is, are golf clubs covered on your house insurance policy?
The answer is yes and no.
The best way to find out is to ask your insurance company about specific policies. Golf clubs are generally covered under your home insurance policy, but you should check with your provider to be sure. Don't forget to ask about other valuables you may have in your golf bag, too. 
Golf clubs are covered under most insurance policies, but not always. They're a high-ticket item, so it's important to check with your insurance company first before you go out and buy a new set of clubs. You may also want to check your homeowner's or renter's policy to see what's covered.
Are you liable if you hit someone with a golf ball?
You might think it's just a game of golf. But hitting an unsuspecting bystander with a golf ball can have serious consequences.
You should definitely check with your insurance company to see if you are covered if you hit someone with a golf ball. Like any other business, you'll want to make sure you're covered.
If you're not sure whether you're covered, just call your insurance company and ask them. They will know what your coverage is and if you're covered by your plan.
Golf Insurance Hole In One (HiO)
Hole-in-one insurance is a policy that provides coverage for golf organizations when a member, guest or participant scores a hole-in-one. This insurance can also cover individuals, but in most cases it is designed for golf courses or other golf organizations. 
If you have ever played or watched a game of golf, then you most likely have heard of the term "hole in one". It is a term used to describe when a player makes their first shot into the hole. This is usually very exciting for both the player and everyone else enjoying the game.
Hole in one golf insurance is a great way to protect yourself against the financial risk of a hole in one. 
If you hit a hole in one, then you have to give the other golfers something. It's up to you what you give them (it might be a free round of drinks or a free round of golf) but you have to give them something for witnessing your hole in one. 
Do I have to buy a drink for everyone in the club house bar?
The answer is no, you don't have to buy everyone at the bar a drink. If you hit a hole-in-one, you're supposed to buy drinks for the people in your foursome, or the people you're playing against if you're playing in a tournament.
A hole in one golf insurance can also be in the scenario you are hosting a golf tournament and there's a nice prize for the person who hits a HIO. In this case the prize is covered by the insurance.
Not all golf carts are created equal, which is why the cost of insurance varies. Pay attention to what type of golf cart you buy because it will affect the cost of your insurance.
How Much Is Golf Cart Insurance?

Golf cart insurance is a tricky thing to figure out, but it's important to get right. The best thing you can do is talk to your insurance agent and figure out how much insurance you need.
If you plan on using your golf cart for fun or transportation, you may want to consider getting an insurance policy for it. Without insurance, your vehicle may be at risk of being stolen or damaged in the event of an accident. You may also be liable for injuries and damages that occur due to your golf cart if you do not have insurance.
The cost of golf cart insurance is determined by several different factors. The key factor is the type of golf cart and the amount of coverage you need. If you're driving a golf cart that is used for work purposes, then your golf cart insurance might be much higher than if you were driving a golf cart that was just for fun.
Golf cart insurance coverage varies depending on the type of cart, the terrain you use it on and the location of the golf course or country club. For example, a golf cart for a private course in a rural area may have higher insurance costs than one for a public course in an urban location.
How much does golf cart insurance cost? 
If you are planning to own a golf cart, you might want to consider insuring your golf cart. 
Golf carts can sometimes be not just as expensive as cars, but even more expensive. Not only are they expensive to purchase, but they also need a lot of maintenance. This is where the importance of golf cart insurance comes into play.
When you're looking to buy golf cart insurance, there are many factors that affect the price. The type of cart you drive, your zip code and the state you live in all have an impact on your golf cart insurance policy.
Golf cart insurance is affordable when compared to car insurance because most golf carts are considered to be recreational vehicles. Golf carts are used on golf courses to transport players from one hole to the next. Many golf cart owners love to take their carts off of the golf course and drive them through their neighborhoods.
Golf carts aren't cheap, so it's important to think about the potential cost of insuring your new golf cart. A golf cart insurance quote can help you find the best golf cart insurance policy for you and your golf cart.
When you ask for a golf cart insurance quote you will see that the premium may vary depending on whether you live in Florida, Arizona or New Jersey.
Conclusion
Golf is an incredibly popular sport, but it can also be dangerous. 
Even if you're not a professional, you can still run into trouble on the course. You may fall and injure yourself, or you may lose control of your golf cart and injure another player. You may even get hit by a golf cart or golf ball in the parking lot.
No matter how careful you are, accidents can happen and they can happen to you. It's better to be prepared so you can get back on the golf course as soon as possible.
If you're a golfer, you need to have golf insurance. This is an important insurance to have for any golfer.
Golf insurance is a complicated subject. There are many different products available, each with their own unique features. The important thing is to get the right insurance for your particular situation.
Accidents happen on the golf course but if you're insured, it's less likely that you'll have to worry about paying out of pocket for medical expenses or replacement costs. Make sure to think about things like liability insurance, equipment, or even a golfer's insurance package.