The Complete Guide to Golf Umbrellas and How to Choose The Best One For You
If you want to learn more about this important golfing accessory and what golf umbrella is best for you, then this golfing umbrella guide will help you.
Having the right type of golf umbrella is key to enjoying your game on the golf course.
Tired of carrying around heavy golf umbrellas that barely last through a rainstorm?
Fed up with your umbrella blowing inside out because it's too light?
Sick of not having enough coverage from those close to the ground gusts of wind that knocks your umbrella over as soon as it starts raining?
Choosing the right golf umbrella is more important than you think. 
Here's why.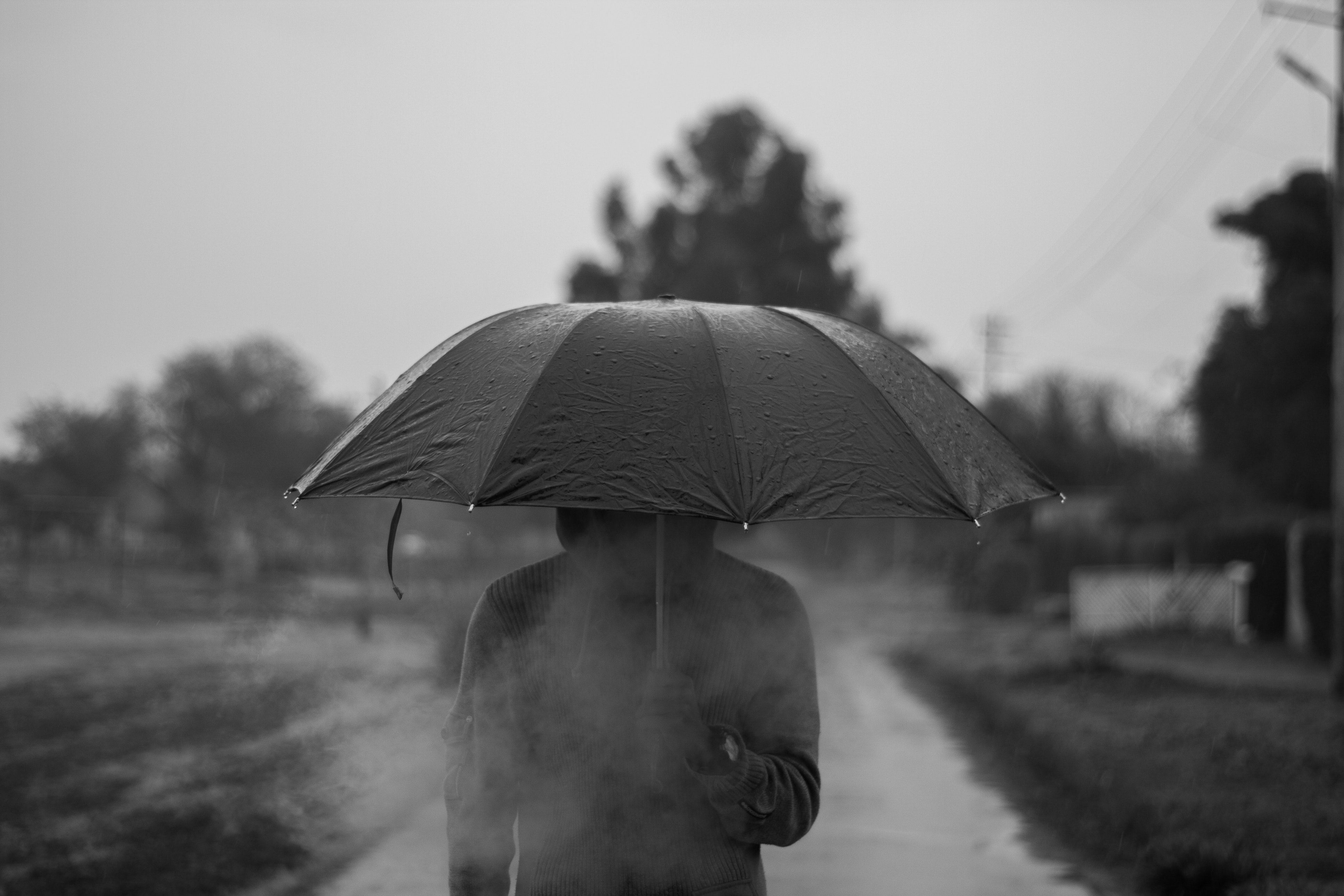 There's no fun in having a golf umbrella that doesn't protect from the rain and breaks in the wind.
Learning Golf Umbrellas The Hard Way

When I first started playing golf many years ago I didn't carry an umbrella in my bag.
I never thought about it back then because I was a beginner. But now I know better. 
When it starts raining, you can't play golf. You have to stop and wait for the rain to stop. If you don't have a golf umbrella, that is…
My advice is that if you don't have an umbrella in your bag now, you should carry one from now on!
I was told by my golfing friends when I first started playing that it made sense not to carry an umbrella in my bag.
Why would I need one when there was no rain in sight?
Years all of a sudden add up and now I carry an umbrella in my bag to be prepared for the worst. You never know when a storm might hit or when that one sneaky gust of wind will appear out of nowhere and hit you in the face with a splash of rain.
Here's what I've learned over years of experimenting and testing different types of umbrellas on the golf course…
What Is A Golf Umbrella?

The term golf umbrella can be quite confusing for most people, at least it was for me when I was first starting out.
What is the difference between a golf umbrella and a regular umbrella?
The major difference between a golfing umbrella and other types of umbrellas is that a golfing umbrella is specifically designed to protect you from the rain and keep your clubs dry. They also protect your golf bag.
There are many different types of golf umbrellas that offer more or less protection based on your personal preferences.
What is a golf umbrella used for on the golf course?
A golf umbrella is an accessory that is mainly used to keep you and your clubs dry in wet weather.
A golf umbrella is especially important in rainy weather but can also be useful on sunny days.
Golfers often carry an umbrella for shelter from the sun.
Different Types of Golf Umbrellas
Different golf umbrellas are designed for different weather conditions and needs.
We have already covered that a golf umbrella is a type of umbrella that's typically used by golfers. The best definition of what separates a golf umbrella from other umbrellas is that they are larger in width than most other umbrellas.
It provides protection from the rain, which can be particularly important when playing on a rainy day.
It's often lightweight and has a long shaft to keep the golfer's hands free when used on a cart.
There are many different types of golf umbrellas, each with their pros and cons.
The most common type of umbrella is the basic all-purpose golf umbrella. This has an angular canopy that can block out rain from all directions without flipping inside out in high winds like other models might do. They also tend to be less expensive than the other models because they don't offer as much protection against wind or sun.
Here we take a closer look at different types of golfing umbrellas, but first…
How does an umbrella work?
The umbrella works in two different ways to provide cover.
The first way is the most common.
The second way is to provide protection from the sun.
What are the pros and cons of an umbrella?
As with everything else, there are pros and cons with golfing umbrellas as well…
The pros of an umbrella are that they protect people from rain and sun and they also provide shade.
The cons of an umbrella are that it can't protect you from lightning or other natural disasters, it blocks the wind, and can become cumbersome to carry around because of its size.
What is the best golf umbrella?
There are many different types of golf umbrella and the best golf umbrella for you depends on your needs. But you want to make sure that your golfing umbrella helps you stay dry and the rain.
The length of an umbrella should depend on what it will be used for. If you are using your umbrella for golf, you should get one that is about 36 inches or more. For regular use, a 16-inch to 36-inch umbrella should work.
There are many factors to consider when purchasing an umbrella.
Some of the considerations are the type of canopy, shaft material, whether you want a pointed or round top, and how many ribs there are. The different materials and construction in your canopy will fundamentally affect the performance and durability of your umbrella. 
Basically, you want higher-quality shafts to ensure that it won't break or bend too easily.
Different colors: Golfer do prefer different colors on their umbrella. Choose the colors you prefer and that match your personality. I prefer black, blue or red umbrellas on the golf course.
Clear golf umbrella models: These are not the most common type of golfing umbrellas. They provide optimal protection from rain and wind and are not perfect for those who want to use them as sunshades as well.
Golf umbrella hat models: These are also popular among golfers as it protects the neck and head from the sun at the same time. However, the hat models are more for fun than for serious protection from rain.
What is a double canopy umbrella?
A double canopy umbrella is an umbrella with two layers of fabric, giving it the ability to block more sun or rain with less effort. They are ideal for people who are looking for more protection, but don't want to carry something larger with them on the golf course.
Best Golf Umbrella For Push Cart
A golf push cart umbrella is a favorite among many golfers who find it to be an indispensable tool for keeping dry on the course.
Why bother with a handheld umbrella on the course when you can have one on your push cart?
A push cart umbrella in a holder is perfect for golfers who are always concerned about their clothes getting wet. It is also ideal for those who like to keep themselves focused during the game by staying dry. 
A good golfing umbrella is easy to open, lightweight and can fit into any golf bag.
Is a push cart umbrella your cup of tea?
With the help of a golf umbrella holder on your push cart, you have an easy solution that solves the problem of having to juggle your golf clubs, umbrella, and drink while trying to walk from hole to hole.
When you're out on the golf course, it's important to stay hydrated and keep sun and rain off your back. With a golf umbrella holder you get an umbrella for golf clubs as well as protection from rain and sun.
Do your golf accessories take up too much space in your bag?
Consider getting a push cart.
The space you get in your bag with a push cart is perfect for stowing away all of your gear. With a push cart you don't have to think about putting too much gear into your bag, because there is no way it gets too heavy.
With a push bag with an umbrella holder, you can grab your clubs and go with ease to any course.
What are the Advantages/Disadvantages of Different Types of Golf Umbrellas?
A good golf umbrella can offer protection from rain or sun when you are playing a round of golf. It should be easy to use and provide the protection you want.
Umbrellas are a useful tool for staying dry during rain, but it is hard to know which type of umbrella is the best for every occasion. You want to look at the features of different types before deciding which one you should buy.
Golf umbrellas are typically made with a golf course in mind. 
They will often include features like reinforced ribs to prevent tearing and sagging, as well as handles designed for easy carrying on the course. Auto-opening umbrellas open with the push of a button or turn of a wrist, making them desirable for those trying to avoid getting wet or having to stop what they do.
Umbrellas for golfers come in different shapes and sizes. They can be designed for different weather conditions, features, and for specific times.
The traditional golf umbrella is a dome-shaped umbrella that offers protection from rain and sun, but it does not offer protection from the wind or the cold.
Let's explore the advantages and disadvantages of different types of umbrellas so you can choose the right one to suit your needs.
What are the advantages of a good golf umbrella?
An umbrella is an essential item when it starts to rain. It offers protection from the rain and wind when you are outside.
A good golf umbrella should be lightweight, spacious and durable. It should also have a large canopy to protect you from the rain.
The advantages of a good golf umbrella are plentiful, but the two most important ones to consider are the ability to keep you dry and to keep your clubs dry.
The main advantage of a good golf umbrella is that it not only provides shelter from the rain, but also prevents water from getting into your golf bag. Rain can destroy your clubs and make them unusable. 
Even if you don't plan to play in the rain, a good umbrella will still protect you from getting wet. And a wet person swinging a club is a recipe for disaster!
It protects players from intense sunlight, rain, and wind
It provides relief from the heat of the sun during hotter months
Offers protection to the head, face, and neck
There are a number of different umbrellas that you can purchase depending on your needs and budget, but they all serve the same main purpose: to protect you from the rain.
A golf umbrella has a larger canopy coverage area so they can offer you more protection against the elements than other umbrellas on the market.
What are the disadvantages of some golf umbrellas?
Yes, some golfing umbrellas come with disadvantages.
It is not easy to find the best golf umbrellas as there are many factors that need to be considered like size, material, and design. But, finding the best golf umbrella might not be as difficult as you think. 
Let's explore the disadvantages of some golf umbrellas.
Here are a few things to watch out for…
Some golf umbrellas are not very durable, are not very wind-resistant, are too large for some golf bags, are too expensive, are not made of water-resistant materials, and do not have a long enough handle to keep you dry.
Some golf umbrellas might close up too easily, or not be strong enough to withstand wind, or not be durable.
Some golf umbrellas can be difficult to open and close.
Now it's time for…
I've searched the entire world for the perfect golf umbrella, but having a clear style golf umbrella isn't my cup of tea.
How do I choose a golf umbrella?

Choosing a golf umbrella is an important decision.
You want to make sure it will be large enough to cover you and your clubs well, but that doesn't mean you should buy the widest one available.
If you're choosing between two umbrellas with relatively similar coverage, go with the one that is more lightweight.
I would recommend you choose a golf umbrella that has a 60+ inch arc size.
The bigger umbrella size you choose, the more protection you will get from your umbrella. Ideally, your golf umbrella should be lightweight enough to make it easy to carry around the course while still being sturdy enough to withstand the windy conditions of some courses.
What Makes the Best Golf Umbrella?
The best golf umbrella is not always the most expensive one. It is all about finding the right balance between features and price.
The weight and size of the umbrella can be a big factor in deciding what makes a golf umbrella great.
For example, you don't want to deal with an oversized and heavy golf umbrella. But you also want something that's durable against windy conditions so you might want to choose a lightweight model that still shields you from the rain.
With fiberglass you get a durable, non-corrosive material that is great for making umbrella frames. It is super-tough and wind resistant, plus it won't break so easily when bending and stretching in the wind.
Golf Umbrella Size Guide
When buying an umbrella, it is important to make sure that the umbrella is the correct size for you.
But, what's the correct size for me?
Questions you ask yourself at this point might include:
What size golf umbrella do I need?
What size golf umbrella is best?
How to measure golf umbrella size?
The answer to these questions all lead up to how to select the correct size and is part of the process you have to go through.
An umbrella should be able to cover the head and the upper body. The length of an umbrella can vary depending on the type of use it will be put to. A golfing umbrella should be much longer than an everyday umbrella.
Golfing umbrellas are in general tall and large. Being tall is no problem since they all will fit the length of your bag.
Size is measured in inches wide of the diameter of the unfolded umbrella. 
I've said before that I prefer 60+ inch umbrella sizes, but you can go smaller and you can go larger. I think a large umbrella is better in general than a small one. The biggest golfing umbrellas are even as large as 72 inches.
What golf umbrella size is the right fit for you?
Onward.
Which golf umbrella is best?
It's hard to say which golfing umbrella is the best.
I've seen many good ones, both branded and unbranded ones. I've also seen many bad umbrellas that I don't want to put in my golf bag.
If you decide to go with a golfing umbrella from any of these brands, then I don't think you will be disappointed…
Sun Mountain
Nike
Gustbuster
Ping
Adidas
Taylormade
Titleist
Argos
Callaway
Where to buy golf umbrellas
You can find your next umbrella at your local pro shop or sporting retailer.
If you prefer to shop online, you will also find high quality golf umbrellas at Amazon, Walmart or Totes. Once in a while you will also find golf umbrellas for sale at these places.
Conclusion
When the weather is just right, it's always a good time to go out and golf.
But when it's not, there are plenty of options for activities.
You can sit at your house and watch TV, make some food in the kitchen, or simply enjoy your day at home. 
For many people who play golf, however, it's hard to stay indoors when they know that outside is an open course with few obstacles in their way.
That being said, there are some things you should keep in mind when playing golf on a rainy day.
First of all, you need to find the best type of golf umbrella for you before heading out on the course if it rains. It will prove useful at least for keeping you dry while making your way back to the club house!
Other than that - what model, quality and type of golf umbrella you choose is all about your personal preferences. 
I hope you know enough by now to find the golf umbrella that is best for you and your next round on the course.
Golfeaser Newsletter - How To Get Into Golf With Ease
Want to stop feeling humiliated on the first tee, hit long drives and beat your buddies?
Join the weekend golfer community and get "The 3 Easy Secrets Every Weekend Golfer Can Use to Improve Their Game" for FREE.