Review: Is Orange Whip Golf Swing Trainer The Best Swing Training Aid?

The Orange Whip golf swing trainer has been proven to reduce swing tempo variations and increase consistency in ball striking.
It is an easy-to-use, fast-acting device that trains you to maintain swing tempo and teaches muscle memory.
Make yourself a better golfer with more consistency in ball striking by learning how to keep your swing tempo constant at all times.
Read this review, then get your hands on the best swing training aid today!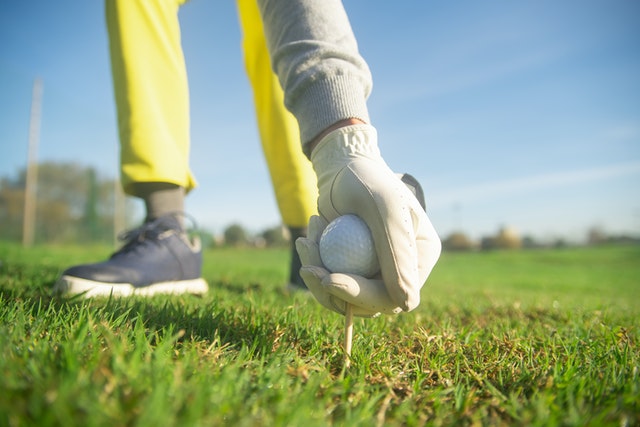 Easier said than done. Golf is hard. The problem is the constant inconsistency when you're striking the ball. But don't worry. With a little practice, things will get easier.
What Does The Orange Whip Swing Trainer Do?

The Orange Whip is a golf swing trainer that helps improve your golf swing. It balances your swing and increases swing speed.
This orange device will help you improve your tempo, strength, and flexibility. The Whip has a flexible shaft with an ergonomic grip which feels nice as you work on tempo or find the natural feel of lag. It's also great for warming up before practice and rounds.
Does the Orange Whip golf trainer work?
The Orange Whip golf trainer is a new device that can help you improve your golf swing and tempo. 
It provides instant feedback on the power of the muscles being used in your golf swing, which helps to analyze and correct any mistakes that may have been made. This trainer can also keep you on a consistent tempo for more of a fluid, natural swing. 
A few swings with this device will have you hitting golf balls better than before.
The Orange Whip is a golf training aid that helps golfers who get quick at the top of their backswing. The design of this product causes the player to slow down and corrects the fundamental flaw in their swing.
Does the Orange Whip help your golf swing?
The Whip allows for focused practice and effortless feedback. It also helps train the muscles and improve timing, balance and body mechanics to help you play better.
The Whip is one of the best pieces of training equipment that you can use before your round. Its light weight will improve your swing tempo, strength, and flexibility in no time at all. Plus, it's great for improving your lag before you take the club out of the bag. 
All in all, it's got everything you need to get warmed up and feel good for your game!
Orange Whip Golf Swing Trainer Videos
You used to have to go to the driving range to practice your golf swing. Now, all you need is the Orange Whip golf swing trainer. 
This little device helps you learn how to adjust your grip, turn correctly, and follow through with every swing.
There are videos available on how it works and how it can improve your game. Here's an example of how to use an Orange Whip golf trainer and you'll know you swung it correctly if the feel is like the video below…
Here's another video where you will learn easy drills that will drastically improve your golf swing and allow you to score better at the end of the day. The creator of the Orange Whip Trainer, Jim Hackenberg shows you three drills that will help you hit the ball farther and with more power.
But what about club speed…
Can Orange Whip Increase Swing Speed?

This aid serves many purposes including optimizing your swing weight distribution, increasing swing speed, and improving your fluidity in swing tempo.
With one of the latest products, the Orange Whip LightSpeed, you get help with both accuracy and power. 
When it comes to golf training, these things are crucial.
Does the Orange Whip increase swing speed?
The Orange Whip is a training aid that builds power and speed in the swing. The Orange Whip has also been shown to improve one's grip strength, muscle endurance, and balance. 
It's not uncommon for golfers to experience an increase in swing speed after training with the Orange Whip.
For years, the Orange Whip Trainer has helped golfers to synchronize their swings. Now, there is a new model for people who need more speed. 
The Orange Whip LightSpeed is perfect for hitting balls with more power while keeping your swing in control. This is the perfect combination of power and accuracy and it will add a higher degree of consistency to your golf game.
But…
Is The Orange Whip Trainer Any Good?

The Orange Whip trainer is a swing power training aid that will help you learn the proper technique to generate power from your arms and core. This tool will teach you to set up with a solid base from which you can execute a powerful swing. 
If you're bored, frustrated or just looking for some new ways to improve your game, then give this product a try!
It's a surprisingly simple way to fix little mistakes in your swing without much effort. Even if you don't struggle with this, the Orange Whip is still pretty useful and will help you warm up.
What is the difference between Orange Whip and Gold Flex?
Here are some difference between Orange Whip and SKLZ Gold Flex:
The shaft of the Orange Whip is more flexible than with the SKLZ Gold Flex.
The Orange Whip is heavier than the SKLZ.
The SKLZ feels heavier due to the difference in where the flex point is.
But there's more…
SKLZ Gold Flex golf swing trainer vs Orange Whip
Both are effective training aids, but the SKLZ Gold Flex is the best choice for people on a budget. If you are willing to spend more, the Orange Whip is a proven effective choice.
Does Orange Whip LightSpeed work?
Orange Whip LightSpeed is an innovative golf training aid that will improve your golf swing speed. It does this by improving your grip on the club, increasing the acceleration of your downswing, and minimizing the impact on your wrists.
Orange Whip's lightweight training system will make your golf swing speed faster and  more accurate. It features a patented breakthrough counterweight system for swing training without the bulkiness.
Any sign of a wobble means that you need to improve your tempo and balance for an even smoother swing. Improvement is faster when you know exactly what to do, and it will help you every step of the way.
Orange Whip Lightspeed golf swing trainer
The original Orange Whip Trainer was designed to improve the tempo of your golf swing and the new Orange Whip LightSpeed was designed specifically to increase your speed and distance. 
The patented design of the LightSpeed is perfect for all golfers, from beginners to professionals.
Golfers everywhere might be in for a treat with the introduction of Orange Whip, a new product that has been used by 200 golf pros on various tours, as well as recreational golfers. 
Orange Whip is available for purchase at select retailers across the country.
Different Types of Orange Whip Golf Swing Trainers

There are different models of the swing trainers.
Which one is the right choice for you?
They come in a variety of sizes, but they all work the same way: by allowing golfers to feel more natural and fluid with their swings.
Orange Whip Compact Golf Swing Trainer
Golf is the ultimate game of precision. One small mistake can change the entire course of your round. 
With Orange Whip Compact Swing Trainer, you can practice your short game anytime with a whippy shaft and a compact design.
Orange Whip Wedge Golf Swing Trainer
The Orange Whip Wedge trainer is an innovative training aid that will change the way you think about your game. 
The wedge club head has a different shape from the rest of the clubs and it can help you address your scoring problems. It also offers more margin for error as you address the short game.
Orange Whip Peel Golf Swing Trainer
Use any of the Orange Whips or your own golf clubs to get a more balanced swing. 
The shape of the peel means that when your stance goes through it you automatically find your center and balance your core, making perfect sense for when you're practicing. It also allows you to replicate all sorts of different golf course lies.
Orange Whip Golf Swing Trainer Reviews

The Orange Whip Golf Swing Trainer is a great product that will help you learn how to swing a golf club without the need for expensive lessons. It helps you identify your individual problem areas in your golf swing so you can work on them in order to improve your game.
But it's always a good idea to study some reviews before you settle on something…
If you're looking for a great golf swing trainer to help improve your game, the Orange Whip Swing Trainer might be just what you're looking for.
Have you made up your mind yet?
Conclusion

The Orange Whip golf swing tempo trainer is one of the best aids on the market, and for several reasons….
If you're suffering from a lack of consistency in golf ball strikes, this is the training aid for you. 
The Orange Whip helps improve your tempo and consistency in the golf swing. It teaches you to shift your weight appropriately and provides immediate feedback when it detects inconsistency or an incorrect shift of weight.
Is the Orange Whip golf swing trainer the best swing training aid?
With the Orange Whip Golf Swing Trainer, you can build muscle memory for better golf swings. 
The trainer is easy to use and doesn't require any other equipment. You can start using it right away without any previous knowledge about the game.
Orange Whip midsize golf swing trainer
The Orange Whip is a popular option for many golfers who want to improve their golf swing. This swing trainer is used by PGA professionals and amateurs alike, with its wide range of configurations and high-quality materials.
Orange Whip full-sized golf swing trainer aid
This is a full-sized golf swing trainer aid that helps golfers build a range of motion. It's a great way to help you gain the fluid, swinging motion needed for optimum performance. 
The Orange Whip is designed to keep your swing as efficient as possible.
Swing away!
How great does it feel to hit a straight shot?
Golfeaser Newsletter - How To Get Into Golf With Ease
Want to stop feeling humiliated on the first tee, hit long drives and beat your buddies?
Join the weekend golfer community and get "The 3 Easy Secrets Every Weekend Golfer Can Use to Improve Their Game" for FREE.